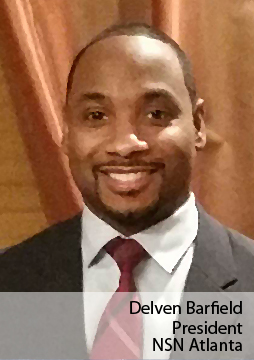 Welcome to NSN Atlanta!!!
On behalf of the Atlanta Chapter of National Sales Network, I would like to welcome you to the premiere organization for African-American sales professionals. I would like to thank all of our members and sponsors for your continued support as I enter my final year as the Atlanta Chapter President. I am also excited to announce a new role as I will be leading a new program designed to grow our membership base for those UNDER 30. Please visit the National Sales Network Headquarters website for more information on "Tomorrow's Sales Executive Today: T-SET" by clicking here.
Our mission is to meet the professional and developmental needs of African-American sales representatives and sales management professionals.
Nationally there are 19 active chapters around the U.S. and NSN Atlanta served as the host city for the 2009 conference which held over 1000 sales professionals here in Atlanta. We look forward to your involvement locally, and nationally in the 16th Annual NSN National Conference & Career Fair. The conference will take place August 8-11th at the Hilton Baltimore. During these challenging economic times, we encourage you to take advantage of the largest U.S. Sales Diversity Career Fair and educational conference.
I would like to invite you to our "Success" and "Growth" experience seminars, which are held monthly by the Atlanta chapter. Our seminars focus on the following key concepts:
• Selling Skills
• Entrepreneurship
• Employment Opportunities
• Networking
• Career Development
In 2013, we will continue with additional programs devoted to your career development. All of our serve as an opportunity for our members to network and learn more about our key sponsors. As we begin this New Year, I would like to thank our 2011 sponsors Medtronic, Johnson & Johnson, Microsoft, Prudential, ADP, State Farm, McKesson and United Healthcare; who have supported NSN Atlanta, provided their expertise during our seminars and given new career opportunities for our members.
Our members will also have the opportunity to become mentors through the Mentoring and Career Coaching Program (MACC). The MACC program will work primarily with students from the AUC (Morehouse, Spelman, and Clark Atlanta) to help prepare them for post-collegiate opportunities as future sales professionals and NSN members.
I encourage you to JOIN TODAY and get involved as you will grow your network base, expand your opportunities, and learn how to be most effective in sales.
Sincerely,
Nicole Williams
President,
Atlanta Chapter
National Sales Network