Welcome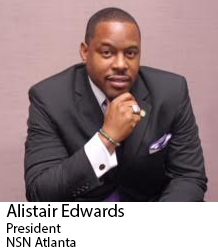 Welcome to NSN Atlanta!
On behalf of the Atlanta Chapter of National Sales Network, I would like to welcome you to the premiere organization for diverse sales professionals. Thank you to all of our members and sponsors for your continued support as we collectively and collaboratively grow a strong constituency. The legacy we are striving to leave behind is "Inclusion and development that leads to making a difference, while making a living." I encourage you to assist NSN Atlanta with our legacy by becoming an active participating member 
Building Leaders
"If you want to be a great leader, remember to treat people respect at all times. For one you never know when you'll need their help. And two, because it is a sign you respect people, which all great leaders do!'!
-Simon Sinek
Our mission is to meet the professional and developmental needs of diverse sales representatives and sales management professionals, helping each member to become a better leader in their perspective sales professions. The National Sales Network has 20 active chapters around the United States and NSN Atlanta is one of the largest chapters in the nation. The Atlanta Chapter was awarded the National "Chapter of the Year Award" in 2012 and in 2014. We look forward to your involvement locally at the chapter level and nationally at the 22nd Anniversary NSN National Conference & Career Fair. The 2018 Annual Conference will take place August 8-10, 2018  in New Orleans, LA. We encourage you to take advantage of the largest U.S. Sales & Diversity Career Fair and educational conference.
I would like to invite you to our educational seminars and networking experiences, which are held monthly by the Atlanta Chapter. Our seminars focus on the following key concepts:
• Career Development
• Networking
• Employment Opportunities
• Selling Skills
• Entrepreneurship
In 2018 and beyond, we will continue with additional programs devoted to your career development. All of our events serve as an opportunity for our members to network and learn more about our key sponsors. As we start 2018, I would like to thank our 2017 Sponsors: Grainger, State Farm, Boston Scientific, Country Financial, United Health Group, Medtronic, Johnson & Johnson, Genentech, AT&T, TEK Systems, Takeda Pharmaceuticals, CR Bard, Auto Trader, Southern Petroleum, Sanofi, Baxter, United Technologies and Medline; who have supported NSN Atlanta, provided their expertise during our seminars and given new career opportunities for our members.
Our members will also have the opportunity to become mentors and involved in our communities through the partnerships with Boyd Elementary, Love T Nolan Elementary, Mary Bethune Elementary, Hosea Feed the Hungry and Habit for Humanity. 
I encourage you to JOIN TODAY and get involved as you will grow your network base, expand your opportunities, and learn how to be most effective in sales and marketing.
Best,
Alistair Edwards
President
National Sales Network - Atlanta Chapter